Did you know that the number of people with insomnia ranges from 10 to 30%? This disorder affects your ability to get to sleep, stay asleep through the night, and sleep as long as you like in the morning. The consequences of sleep deprivation can be severe, including excessive daytime sleepiness, increased risk of auto accidents, and widespread health effects.
An irregular sleep schedule, bad sleeping habits, stress, mental health disorders such as anxiety and depression, medical illnesses and pain, medications, and neurological disorders are all common causes of insomnia. Several of these factors can start and aggravate insomnia in many people. It's, therefore, crucial to invent ways to avoid it. In the following listicle, you'll learn about seven unknown but effective ways to prevent insomnia. Read on to find out.
Taking CBD For Sleep
There's been a significant increase in using marijuana and CBD to treat various ailments in recent years. Particularly, CBD may have therapeutic effects on insomnia and other symptoms. According to researchers, the endocannabinoid system plays a crucial role in maintaining the body's functions.
They include regulating mood, appetite, sleep, and circadian rhythms. The endocannabinoid system comprises the various brain and nerve receptors that respond to cannabinoids.
There are two primary receptors: CB1 and CB2. These cells attach to cannabinoids, which have various effects on them. As for how they might affect sleep, some research suggests that CBD could interact with specific receptors, affecting the sleep/wake cycle. Therefore, you can take various products like CBD gummies to help you avoid insomnia.
Related: The Biggest Contribution Of CBD Kratom To Humanity
Exercising
Getting up to 30 minutes of exercise daily can help you sleep well. Even if you don't see results immediately, keeping up with it will help you. One study examined 11 women with insomnia in 2013 and determined that exercising one day didn't result in better sleep the following night.
In contrast, they experienced improved sleep quality and quantity after regular exercise for four months. Regular exercise also prevents diabetes, obesity, and cardiovascular disease.
Cognitive-Behavioral Therapy
With cognitive-behavioral therapy (CBT-I), you can reduce or eliminate sleep-depriving thoughts and behaviors. If you have insomnia, you can make it one of your primary options to avoid it. Sleep medications are rarely as effective as CBT-I.
In CBT-I, you learn to identify and change the beliefs that affect how well you sleep. It can enable you to reduce your worries and control your thoughts. It may involve removing the cycle that can develop when you overthink that you're going to sleep and can't. Behavioral components help you establish good sleeping habits and avoid harmful sleep habits.
Practicing Yoga
Studies have shown that yoga improves sleep quality. It may also reduce stress, boost physical performance, and enhance mental focus. It would be best to choose a style that emphasizes breathing and meditation rather than complex physical movements. You can remain focused and present by making slow, controlled movements. Restorative yoga and yin yoga are both excellent options.
Do at least 20 minutes of self-practice each day, along with a few longer sessions each week. You can practice poses before going to sleep to help you relax. You shouldn't force a pose if you're not comfortable with it. It might hurt.
Minding Your Drink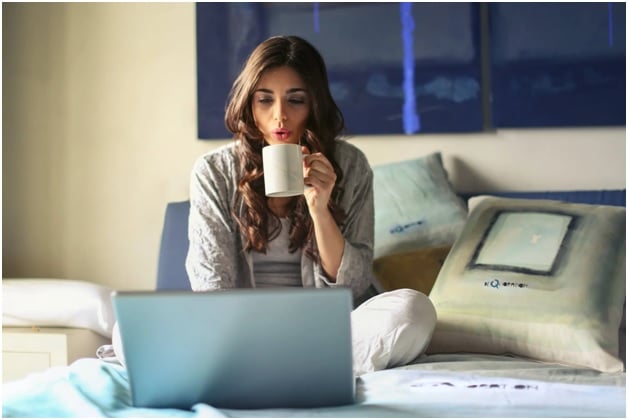 Avoiding excessive alcohol consumption can help you prevent insomnia. Alcohol is a sedative that leads to sleep initially but can interfere with deep sleep, which allows your body to rest adequately. The long-term effects of heavy drinking include high blood pressure, heart failure, and stroke.
Similarly, it would help avoid caffeinated drinks such as coffee and soft drinks. A 400 milligrams (mg) of caffeine taken about six hours before bedtime can significantly disrupt your sleeping pattern. Coffee has 96 mg of caffeine per 8-ounce cup. It would be best to avoid caffeine at least six hours before your usual bedtime. Drinking excessive fluids before bedtime can disrupt sleep, causing repeated nighttime bathroom visits.
Relaxation Techniques
You can avoid insomnia through various relaxation techniques. For instance, relaxing muscles, using biofeedback, and practicing breathing exercises can reduce anxiety at night. These techniques enable you to control your:
Mood
Breathing
Blood pressure
Muscle tension
Before bedtime:
Take a warm bath.
Get a massage.
Stretch lightly to help your body relax.
Get a Comfortable Sleeping Environment
It's essential to control the temperature and noise in the bedroom so that you can fall (and stay) asleep. If you sleep with a pet, ‌move the pet to another room if it causes noise at night. A significant factor that affects sleep is light. Directly, it interferes with your ability to fall asleep, and indirectly, by affecting the timing of your internal clock and affecting your preferred sleeping hours.
We now see much more light during the night than we had ever seen throughout all of our evolution. Almost certainly, this new light exposure pattern has affected our sleep patterns. It's challenging to predict the effects of light exposure, but it has the potential to reset your internal clock, making it tough to fall back asleep.
Conclusion
Insomnia affects many people worldwide. This sleep disorder leads to various side effects that negatively affect your health. However, you can avoid insomnia effectively by taking CBD, exercising, yoga, and more ways mentioned above.