Experiencing a technical error while using the Azure portal can halt your tasks. The "ErrorLoadingExtensionAndDefinition" reason code may pop up when you try using Windows Azure.
Several factors, like a weak internet connection, incorrect application settings, or Azure server outages, might cause the "Error Displaying your Content" issue [system_application_force_next_0007].
Though it's frustrating, luckily, there are easy solutions to troubleshoot this error. Follow the simple steps below to resolve the issue and get back to using Azure in no time.
What Triggers the "Error Displaying your Content" [system_application_force_next_0007] on Azure?
Various factors can cause this issue on Azure. Here are some common ones:
Incorrect App or Service Configuration: If your application or service isn't configured correctly, this might lead to an error.
Network or Connectivity Issues: A weak internet connection can cause this problem. Please verify your connection strength or contact your ISP to improve it.
Azure Platform Outages: This issue could arise if Azure is undergoing maintenance or experiencing outages.
Bugs or Compatibility Issues: If the service or application has compatibility problems or bugs, they might trigger this error.
How to Resolve the "Error Displaying your Content" Issue on the Azure Portal?
Before diving into more technical solutions, try these basic troubleshooting steps: restart your device or clear the cache and cookies using a browser version of Azure. If these simple fixes don't resolve the issue, follow the solutions below.
Solution 1# Check Azure's Status
First, verify if the issue is due to an outage or other Azure server problems. If there's an outage, contact Azure support for quick assistance. If it's not an outage-related issue, further troubleshooting is to uncover the root cause.
Visit the official Azure status page on your browser. Check for any ongoing platform issues, like an outage or maintenance activities. If there are, you'll need to wait until they're resolved. If no server problems are reported, move on to the following solutions.
Solution 2# Troubleshoot Network Issues
Identifying and fixing network issues can help locate the exact cause of the Azure content display error. This involves addressing technical glitches like firewall or DNS configurations, boosting network performance, and ensuring security measures are functional.
Use a speed test, available online or through your ISP, to check your connection speed. Monitor your signal strength, which can affect your connection and cause errors. Try rebooting your router and modem, switching to an ethernet connection, or using a different internet connection or mobile hotspot.
Solution 3# Try a Different Browser
Different browsers render web pages uniquely, and using a different browser can help fix the content display errors on Azure. Open a new Internet Explorer, Firefox, Chrome, or Safari tab, visit the Azure portal homepage, and log in. Once logged in, select the services and resources you want to use.
Solution 4# Check Application or Service Logs
Checking the logs of an application or service running on Azure can help troubleshoot the content display error. By examining the logs, you can identify the type of error and where it occurs in the code. This helps locate the source of the problem and determine the best solution.
Log in to the Azure portal, navigate to the app's page, switch to the "Monitor", then to "Logs". View the logs using filters for a resource type, group, or time range. Clear any large logs blocking the queue.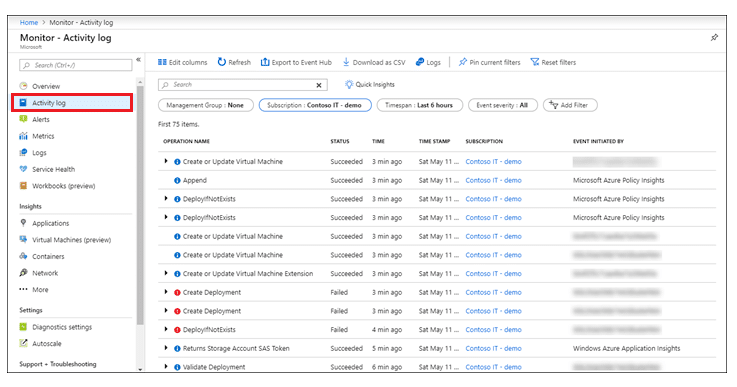 Solution 5# Verify the App or Service's Configuration
Checking the connection strings, environment variables, and other Azure settings can help identify and troubleshoot configuration issues causing the error. Log in to the Azure portal, select the app or service you want to check from the left menu, go to the "Configuration" tab, and verify the settings.
Solution 6# Install Updates or Patches
Ensure your app or service is updated with the latest versions and security patches to prevent vulnerabilities or errors due to outdated versions. This ensures proper content display and access to new features.
Log in to Azure, go to the "All services" tab, switch to the "Administration" section, and then click on "Updates". If updates are available, follow the on-screen instructions to install them.
Solution 7: Contact Azure Support
If all else fails, contact Azure Support. They can help identify the root cause of the issue and guide you on how to fix it. They can also assist with configuration changes to ensure your content displays correctly.
Conclusions
In conclusion, resolving the system_application_force_next_0007 error involves a comprehensive examination of both the application and its underlying code. This article provides a complete set of solutions to troubleshoot and resolve content display errors on Azure. Following these steps should help you rectify the issue.
FAQs
Q: What is the primary use of "System_Application_Force_Next_0007"?
A: It's used to streamline processes, reduce errors, save time, and improve user experiences in business operations.
Q: How does "System_Application_Force_Next_0007" enhance productivity?
A: It automates repetitive tasks and allows for the reallocation of resources towards more critical operations.
Q: What are the main benefits of using "System_Application_Force_Next_0007"?
A: The benefits include improved operation speed, enhanced accuracy, effective resource management, and reduced errors.
Q: How does "System_Application_Force_Next_0007" assist in troubleshooting?
A: It simplifies identifying and resolving issues with an application by forcing the system to move to the next step, enabling proactive problem detection and resolution.
Q: What does the term 'quick change testing' mean about "System_Application_Force_Next_0007"?
A: It refers to the ability to test changes to components quickly, allowing for efficient testing processes and better resource management.
Q: What precautions should be taken when using system/application overrides?
A: It's essential to evaluate the need and potential risks, apply changes only if necessary, and create file backups to prevent errors or accidental changes.
Q: Can "System_Application_Force_Next_0007" affect network functionality and security?
A:  Even minor mistakes while applying system/application overrides can significantly impact a network's functionality and security. Therefore, it's crucial to proceed with caution.
Q: According to Gartner research, what is a significant cause of outages in cloud infrastructure?
A: Configuration errors or network faults account for 90% of significant impacts across cloud infrastructure capabilities, as per the 2017 Gartner research findings.
Read more other article: 001-$wag$-sfap49glta4b7hwyl5fsq-3802622129 – Refexlis